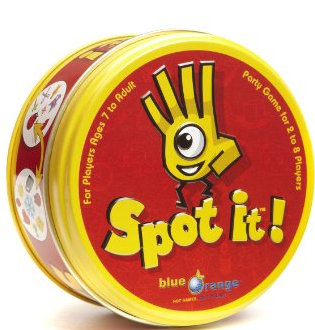 Product Name : Spot It
Sales page URL: Amazon.com
Category: Toys and Games
Recommended ages: 6-12
Manufacturer: Blue Orange Games
Customer Ratings: 





 4.8 out of 5 stars
Product Dimensions: 3.8 x 3.8 x 1.8 inches ; 5.6 ounces
Amazon Best Seller Rank: #1 in toys and games- board games
Product Overview
Spot it is a fast paced highly addictive game for 2-8 players. The objective of the game is to be the first one to spot 2 matching symbols . The game consists of 55 cards with 8 symbols on each one. There are over 50 symbols in all ranging from
Hearts
Snowflakes
Dragons
Lightening bolts
Numbers
Words
Fast paced non stop entertainment for the entire family
The whole family will love trying to be the first one to spot the matching symbols and agonize in getting beat to the punch by a faster player. The game moves fast and will challenge your mental processing, memory, and visual perception.
How the game is played
you simply lay down 2 cards on the table face up so that they are visible to everyone. There will always only be 1 matching symbol for every 2 cards. The first person to spot the matching symbol wins the round. The winner of that round will place 2 new cards on the table face up and repeat the process.
If there happens to be a tie at the end of the game the 2 players will enter into a dual. Each player will then place 1 card on the table face up at the same time. The first player to correctly spot the matching symbol and call it out wins the dual.
Five additional mini games are included
In addition to the regular game play there are 5 additional mini games included to enhance your spot it experience. These all come with different rules and objectives for you to meet. Challenge other players in games such as:
The Tower
The Well
Hot Potato
The Poisoned Gift
Triplet
Whoever wins the most mini games will become the champion.
What is the age group for this game?
The recommended age for spot it is 6-12 years of age but adults and children alike will have a blast playing it. The whole family will love trying to be the first one to identify the matching symbols and call them out.
Pros vs Cons at a glance:
Pros
Challenges your visual perception
Improves  your mental processing skills
Enhances your memory and matching skills
Comes in a travel size tin that is idea for road trips
Contains an additional 5 mini games allowing additional challenges to be unlocked
Cons
Very fast paced

Some players might find it a bit too challenging
What all is included in the box?
The games comes in a tin travel size container along with a rule sheet and instructions on how to play and 55 circular cards.
Product details at a glance
Product name: Spot it
Sales page URL: Amazon.com
Category: Toys and Games
Recommended ages: 6-12
Manufacturer: Blue Orange Games
Customer Ratings:





 4.8 stars out of 5
Product Dimensions: 3.8 x 3.8 x 1.8 inches ; 5.6 ounces
Amazon Best Seller Rank: #1 in toys and games- Board Games
Find the best price on spot it along with a 24% discount